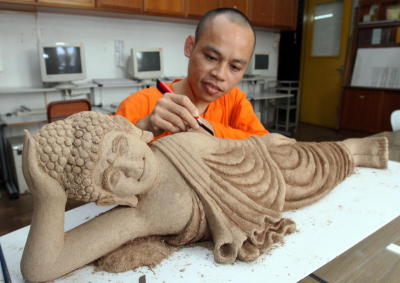 Monk sculpts statue out of incense powder and water for Wesak celebration
A METRE-long sleeping Buddha statue made by Cambodian monk Ven Hou Heng using only incense powder and water will be one of the main attractions at an artifact exhibition during the state-level Wesak Day celebrations.
Ven Hou Heng, who is currently with the Malaysian Buddhist Association (MBA) here, spent two weeks to complete the statue which is only between 15cm and 20cm high.
He said he had also made a small laughing Buddha statue using a similar method for the exhibition.
"I mixed the incense powder with water until it became a dough. No mould was needed as I shaped the statue by pressing it with my fingers.
"I also used a knife to carve the shape of the eyes, ears and mouth of Buddha as well as the lines on the robe," he explained.
Wesak Day celebration organising deputy chairman Datuk Steven Ooi said the exhibition, which will mark the start of the Wesak month, will be held at Dewan Sri Pinang from 9am to 3pm on April 22.
He said the event was organised by the MBA together with 36 Buddhist associations in Penang.
"The celebration starts two weeks earlier than Wesak Day which falls on May 5 as other temples and associations will be busy with their respective events that day," he told a press conference yesterday.
He added that other highlights of the celebration would include dana (offering of food to monks and nuns), a 'Life of Buddha' stage play and pictorial exhibition, bathing of the Buddha statue and offering of lights.
For details, call 04-2277664
Source: The Star Online
---