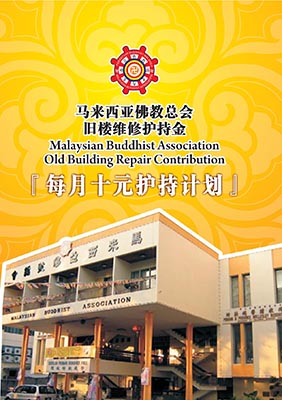 Malaysian Buddhist Association was established in 1959, with the mission to unite Malaysian Buddhists, enhance the ties, improve and implement the Buddhist religious order, propagate the Dharma, benefit society, promote morality, and boost racial harmony.
Looking back, with the support of eager public and the devout Buddhists, Malaysian Buddhist Association has been planning and leading to develop the infrastructure, always keeping mind the utmost objectives of Humanistic Buddhism and teaching Dharma to benefit all beings.
The old building of Malaysian Buddhist Association was built in 1968, and the foundation of the Wisma Education and Charity MBA was laid in 2003. Both buildings have shouldered heavy burden since then. Today, the aging old building is leaking and cracking in many places and needs repair, so we hope to garner the human and financial support from public and we work together to create good karma, keep the light of wisdom burning bright.
---